In a stunning display of skill and maturity, 18-year-old prodigy Ivan Fresneda has emerged as a sought-after talent, catching the eye of European football giants. The young full-back's remarkable journey from Madrid's local clubs to the cusp of a potential Milan move has sent waves through the football world.
Fresneda's rise began in the youth academy of Real Madrid, where his talent was evident even at a tender age. However, a move to the neighboring side Leganes proved pivotal, offering him the playing time he needed to blossom. A subsequent transfer to Real Valladolid's youth ranks marked the start of his rapid ascent.
The turning point came in December 2021, when an opportunity arose due to injuries in Valladolid's squad. Despite being just 17, Fresneda seized the chance and made his debut, showcasing his defensive prowess and composure on the ball. This marked the beginning of his meteoric rise.
Fresneda's standout performance against Real Madrid drew widespread attention, where he stifled Vinicius Junior's attacking threat. This masterclass ignited rumors of a potential move, with Milan and Barcelona among the suitors vying for his signature.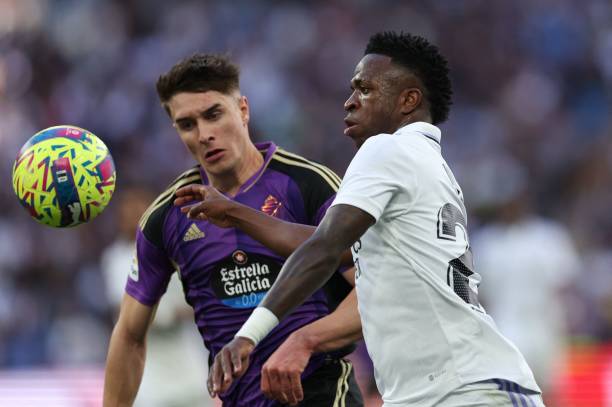 His attributes are undeniable: a solid defender, adept in one-on-one situations, and surprisingly mature for his age. While his focus on defensive stability is evident, his offensive contributions have been limited, partly due to Valladolid's struggling form. However, his potential is evident, and a change of scenery could unlock his attacking capabilities.
As Fresneda's star continues to rise, clubs are lining up for his services. Real Madrid, Newcastle, Barcelona, Arsenal, Juventus, and Borussia Dortmund have all expressed interest. Recent reports suggest Milan's growing interest, particularly given their need for a right-back following Dest's departure.
Fresneda's possible departure from Valladolid could command a significant fee, reportedly around 30 million euros. While a hefty investment for an 18-year-old, the long-term gains could prove invaluable for the acquiring club.
The footballing world watches with bated breath as Ivan Fresneda, the prodigious full-back, stands at the precipice of a promising career. Whether he dons the colors of Milan, Barcelona, or another European powerhouse, his journey is set to captivate fans and pundits alike, ensuring his place among football's rising stars.