If you thought Bollywood was all about glamorous actors and captivating storylines, think again. Amidst the glitz and glamour, a compelling narrative has been unfolding – the story of Sunil Chhetri, a man whose journey from a cricket-crazy dreamer to a football icon has captured hearts across India.
While Indian cinema often embraces larger-than-life narratives, Sunil Chhetri's tale is as real as it gets. Born in a cricket-obsessed nation, young Sunil dreamt of emulating the legendary Sachin Tendulkar. However, his family's modest means meant that purchasing a cricket kit was an unattainable luxury. Undeterred, Chhetri's determination led him to resourcefulness; he would even secretly pocket bus fare to save for his cricket dreams.
But fate had other plans. Chhetri's tryst with football began when he stumbled upon the sport's affordability. A ball was all he needed, and his mother became his first playmate during scorching Delhi summers. This marked the beginning of a journey that would see him evolve into a football sensation.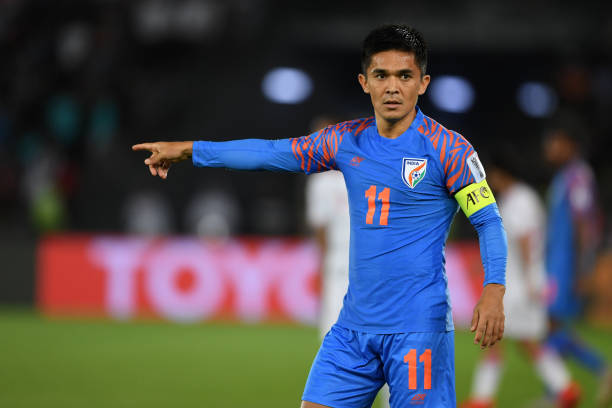 Chhetri's prowess caught the attention of Mohun Bagan, one of India's oldest football clubs. His agility, coupled with his modest height, made him stand out, eventually earning him a three-year contract. This marked a turning point in Indian football, as Chhetri's talent began to reshape perceptions of the sport.
Over the years, Chhetri's dedication to the game never wavered. He wore the national team jersey with pride, making his debut at just twenty. Today, with 84 goals to his name, he stands as India's all-time top scorer, trailing only behind Cristiano Ronaldo and Lionel Messi.
Despite his remarkable achievements, Chhetri remains grounded. He recognizes the immense gap between him and the global football giants. In his own words, "There is absolutely no comparison between me and him [Messi]. I'm a fan of his, like everyone else." This humility is characteristic of a man who remains committed to nurturing young talent in India, encouraging them to dream big.
Chhetri's journey is a testament to the transformative power of sports and the resilience of the human spirit. It's a story that deserves to be told on the silver screen, where Bollywood's magic can weave his struggles, triumphs, and unwavering passion into an unforgettable tale. So, as the credits roll and the curtain rises, get ready to witness the captivating saga of 'Like Leo, Beyond Messi: Sunil Chhetri'. The popcorn is on you!