Arsenal's goalkeeper Aaron Ramsdale has broken his silence regarding the impending addition of David Raya to the team. This move comes as Arsenal strikes a deal with Brentford for approximately £30 million, securing the services of the accomplished Spain international, as reported by football.london. Raya, who boasts an impressive track record of 12 clean sheets in his past top-flight season with Brentford, has also earned an international call-up, underscoring his prowess on the field.
Raya's attendance at Wembley Stadium during Arsenal's triumphant Community Shield victory over Manchester City speaks volumes about the Gunners' intent to intensify competition for Ramsdale's starting position in the lineup. Ramsdale, a stalwart in Mikel Arteta's squad during their title-challenging campaign, succinctly conveyed his response to the heightened competition in a mere four words: "Bring it on, yeah."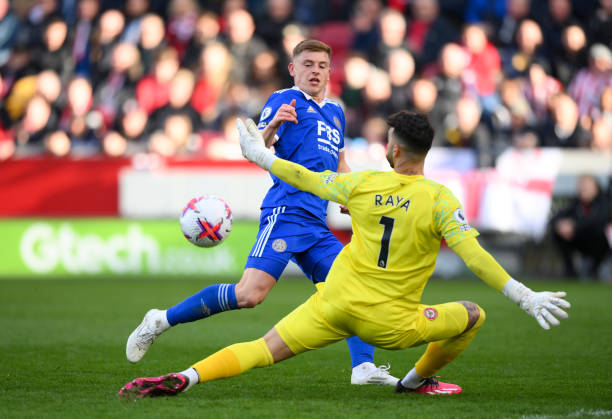 While Ramsdale faces no stranger to battling for his position, having surpassed Bernd Leno shortly after joining the North London club in 2021, he remains confident in the solidarity of the goalkeeping fraternity, irrespective of unfolding circumstances.
In his interview with ITV, Ramsdale emphasized the challenges intrinsic to football and the need for personal adaptation. Drawing from his own experiences of transitioning between clubs, he expressed readiness to embrace the possibility of change. "If it happens, it happens," he stated. "We'll fight and motivate each other to be the best versions of ourselves, as per the manager's guidance."
Ramsdale further underscored the significance of the goalkeeping union, asserting that individual disappointments would take a back seat in favor of collective and goalkeeper-oriented success. The impending duel for the coveted goalkeeper position will undoubtedly add a layer of dynamism to Arsenal's lineup, promising an intensified competition that Ramsdale and his peers seem poised to embrace wholeheartedly.