Manchester City midfielder Rodri has opened up about his concerns regarding player burnout due to the grueling schedule of 60 games per season. The 27-year-old Spanish international has engaged in discussions with club officials to address this pressing issue.
Rodri's dedication to the team was evident last season, where he made an impressive 56 appearances, missing only five matches. This impressive feat played a significant role in Manchester City's historic Treble win. The midfielder not only featured in more matches than any other player in Pep Guardiola's squad but also accumulated a staggering 4,465 minutes of playtime throughout the campaign.
Erling Haaland came closest to Rodri's playing time, trailing by 349 minutes, which is equivalent to nearly four games. Interestingly, Manchester United's Bruno Fernandes stands as the sole Premier League player to surpass Rodri's minutes, boasting over 5,000 minutes across all competitions.
Rodri's concerns stem from the adverse effects of such a demanding workload on his physical health. He emphasized that while it might be manageable for a single season, consecutive years of such intensity could lead to a decline in his physical condition, thereby affecting team performance. The introduction of extended stoppage time in games has further intensified Rodri's concerns, echoing sentiments shared by teammate Kevin De Bruyne.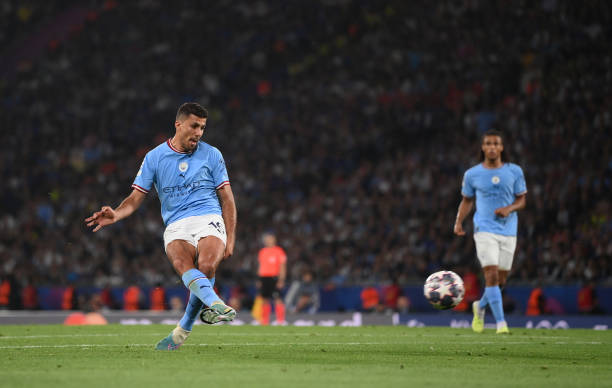 In Rodri's words, "I don't remember exactly the number of games I played, but I had a talk with the club and the coach because it's not healthy. You can do it for one season, but when it's two or three in a row, it can be worse for the team because your physicality can drop."
Rodri also pointed out that the evolving nature of the game, with increasingly longer seasons, could potentially curtail his career if not managed properly. The midfielder stressed the importance of monitoring player workload, especially as he approaches his 30s.
The International Football Association Board's new guidelines have further extended match durations, with notable instances of lengthy stoppage time observed in recent games. Rodri's own experiences of pushing his body to the limit were evident during last year's intense matches. He acknowledged the challenges he faced but credited his determination and the team's mentality for pushing through and achieving remarkable results.
Rodri's insights shed light on the toll that a relentless schedule can have on players, highlighting the need for careful management to ensure their well-being and sustained peak performance. As football continues to evolve, discussions surrounding player workload and health remain essential aspects of the game's ongoing development.