In a surprising twist, reports have surfaced linking Barcelona with a potential move for Paris Saint-Germain's midfield maestro, Marco Verratti. The two football giants, known for their past business interactions, could be on the brink of yet another deal, this time involving a swap of landscapes for the talented Italian player.
Recent developments suggest that Barcelona's head coach, Xavi Hernandez, has set his sights on bolstering the team's midfield prowess with the addition of Verratti. The Italian international's technical finesse and creative brilliance have captured the attention of the Catalan club's management.
While the prospect of Verratti donning the iconic Blaugrana jersey is tantalizing, significant challenges lie ahead. PSG's reported asking price for the midfielder is expected to be exorbitant, potentially exceeding Barcelona's financial reach. Furthermore, Verratti's wage demands could pose an additional stumbling block in negotiations.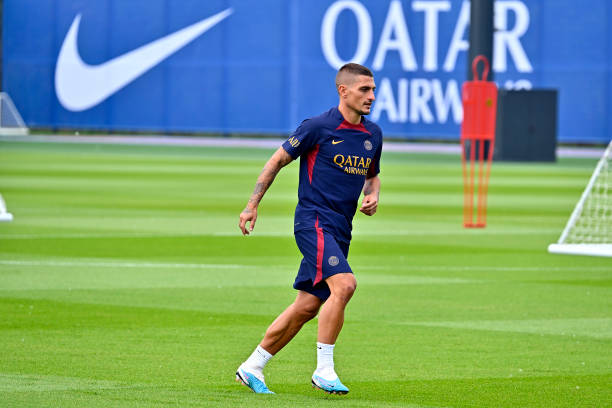 If successful, this move could mark a remarkable shift for both clubs. Verratti's departure from the Parc des Princes would reshape PSG's midfield dynamics, potentially paving the way for new talent. Meanwhile, Barcelona's acquisition of the gifted playmaker could invigorate their midfield strategy under the leadership of Xavi.
As the transfer window continues to unfold, the footballing world watches with bated breath to see whether this unexpected maneuver comes to fruition. While the barriers seem formidable, the allure of Verratti's arrival in Catalonia presents an intriguing subplot in this summer's transfer saga. Although a definitive conclusion remains uncertain, the mere consideration of such a transfer demonstrates the ever-astonishing nature of the football transfer market.