Arsenal Football Club has officially signed David Raya from Brentford on a season-long loan. This deal comes with a notable option to buy the Spaniard for £27 million, demonstrating Arsenal's commitment to securing long-term talent. The initial loan fee of £3 million has been paid by the Gunners, solidifying Raya's temporary move to the North London side.
David Raya, 27, recently extended his contract with Brentford, a calculated measure taken to maintain his value should Arsenal choose not to exercise the buy option. Arsenal's dedication to adhering to Financial Fair Play (FFP) guidelines has been evident throughout the negotiation process.
Despite the impressive performances of Aaron Ramsdale as Arsenal's goalkeeper, Manager Mikel Arteta is actively seeking to provide him with more rigorous competition. Raya's inclusion is poised to elevate the team's defensive capabilities and foster healthy competition among the goalkeepers.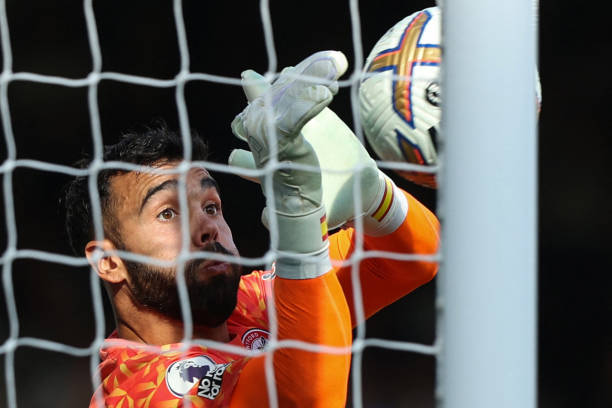 Raya, who dons the number 22 shirt, successfully completed his medical evaluation last week, further affirming his readiness to take on the challenges of the Premier League. The Spanish goalkeeper's presence was notable at the Emirates Stadium, where he watched his new teammates secure a 2-1 victory against Nottingham Forest, kickstarting Arsenal's Premier League campaign on a positive note.
Sporting Director Edu expressed his enthusiasm about the acquisition, stating, "We welcome David to us on a season-long loan from Brentford. David is a top-quality goalkeeper, who has consistently performed to a high level with Brentford in the Premier League. With David joining us, we are adding quality and depth to our squad so we can perform at the highest possible level in all competitions."
The acquisition of Raya prompted the departure of former Arsenal backup goalkeeper Matt Turner, who completed his move to Nottingham Forest. This transfer paved the way for Raya's arrival, as Turner signed a four-year contract with the City Ground, potentially amounting to a deal worth £10 million.
Arsenal's strategic maneuver in securing David Raya signifies the club's dedication to bolstering its roster with exceptional talent, setting the stage for an exciting and competitive season ahead.