In the annals of football history, two names shine brighter than the rest: Cristiano Ronaldo and Lionel Messi. The 2010s saw an unparalleled duopoly between the Portuguese and the Argentine, as they mesmerized the world with their unparalleled skills, shared trophies, and etched their names onto the record books.
As of the latest update on July 8, 2023, the prolific scorers have amassed staggering figures throughout their illustrious careers spanning both club and senior national team matches.
Lionel Messi, who recently transitioned to PSG from Barcelona, has left an indelible mark with his prowess. His goal-scoring journey reads 1033 official goals. Within this astonishing count, he notched up 474 goals in Barcelona's domestic championships, 128 in international cups, and 70 in national cups. Further enhancing his tally are 22 goals in PSG's championships, 9 in international cups, and 1 in national cups. Additionally, his exploits for Argentina's national team have contributed 103 goals to this monumental figure.
Cristiano Ronaldo, who currently graces Al-Nassr after a remarkable journey through top-tier clubs, has etched his name in history with a total of 842 official goals. These numbers are distributed across his time with Sporting Lisbon, Manchester United, Real Madrid, Juventus, and Al-Nassr, as well as his contributions to Portugal's national team. Notably, his journey includes 311 goals in Real Madrid's championships, 113 in international cups, and 26 in national cups.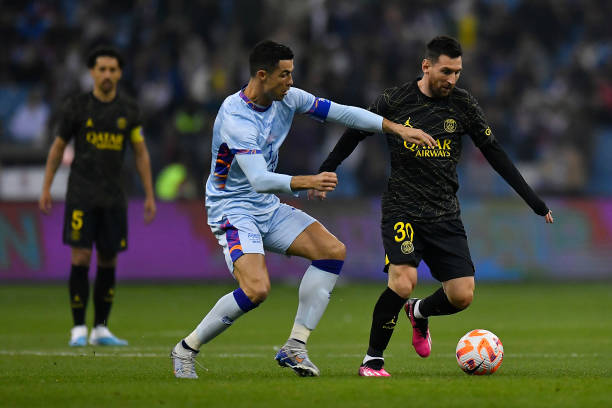 Both legends have achieved incredible milestones and continue to add to their goal tallies, even as their careers progress into new chapters. With their insatiable hunger for success and their remarkable ability to find the back of the net, Messi and Ronaldo remain an inspiration for aspiring footballers around the world.
As fans eagerly watch the ongoing chapter of this long-distance challenge between two football icons, one thing remains clear: the records will continue to be rewritten, and the legacy of Messi and Ronaldo will forever grace the beautiful game's history books.
OFFICIAL GOALS BY CRISTIANO RONALDO
| Squad | Competition | Attendance | Goal |
| --- | --- | --- | --- |
| Sporting Lisbona | Championship | 25 | 3 |
| Manchester United | Championship | 234 | 103 |
| Real Madrid | Championship | 293 | 311 |
| Juventus | Championship | 98 | 81 |
| Al Nasser | Championship | 16 | 14 |
| Sporting Lisbona | International Cups | 3 | 0 |
| Manchester United | International Cups | 65 | 25 |
| Real Madrid | International Cups | 107 | 113 |
| Juventus | International Cups | 23 | 14 |
| Al Nasser | International Cups | 4 | 3 |
| Sporting Lisbona | National Cups | 3 | 2 |
| Manchester United | National Cups | 40 | 17 |
| Real Madrid | National Cups | 37 | 26 |
| Juventus | National Cups | 12 | 6 |
| Al Nasser | National Cups | 3 | 0 |
| Portugal | | 199 | 123 |
| Total | | 1164 | 842 |
OFFICIAL GOALS OF THE MONTH
| Squad | Competition | Attendance | Goal |
| --- | --- | --- | --- |
| Barcelona | Championship | 520 | 474 |
| Barcelona | International Cups | 158 | 128 |
| Barcelona | National Cups | 100 | 70 |
| PSG | Championship | 58 | 22 |
| PSG | National Cups | 3 | 1 |
| PSG | International cups | 14 | 9 |
| Inter Miami | Championship | – | – |
| Inter Miami | National Cups | – | – |
| Inter Miami | International cups | 4 | 7 |
| Argentina | | 175 | 103 |
| Total | | 1033 | 813 |